Fatal Anaphylaxis Due to Atracurium without Cutaneous Manifestations: A Case Report
Keywords:
Anaphylaxis, atracurium, general anesthesia
Abstract
Anaphylaxis or anaphylactic reaction is a medical emergency and it is a potentially life-threatening allergic reaction involving the various systems of the body, especially the cardiovascular and respiratory systems. It is usually triggered by an antigen with subsequent release of mediators from basophil and mast cells. Diagnosis is mainly clinical although laboratory investigations may help in further confirmation. Anaphylaxis during anesthesia is a rare event but could be life-threatening if not diagnosed and treated promptly. Among all the anesthetic agents, neuromuscular blockers are the most notorious to cause anaphylaxis. We are sharing a case of 44 years old female patient who underwent breast cancer surgery under general anesthesia and she developed anaphylaxis due to atracurium injection without cutaneous manifestations. She was managed actively with complete recovery and had her surgery done with the same general anesthesia.
References
Mertes PM, Laxenaire M-C. Allergic reactions occurring during anaesthesia. Eur J Anaesthesiol. 2002;19(4):240. doi:10.1017/S0265021502000418
Hepner DL, Castells MC. Anaphylaxis during the perioperative period. Anesth Analg. 2003;97(5):1381-1395. doi:10.1213/01.ANE.0000082993.84883.7D
Harper NJN, Dixon T, Dugué, et al. Suspected anaphylactic reactions associated with anaesthesia. Anaesthesia. 2009;64(2):199-211. doi:10.1111/J.1365-2044.2008.05733.X
Rose MA, Green SL, Crilly HM, Kolawole H. Perioperative anaphylaxis grading system: "making the grade." Br J Anaesth. 2016;117(5):551-553. doi:10.1093/BJA/AEW251
Mertes PM LM. Allergy and anaphylaxis in anaesthesia - PubMed. Minerva Anestesiol. 2004;70:285-291. Accessed March 15, 2022. https://pubmed.ncbi.nlm.nih.gov/15181405/
Fisher McD. M. Clinical observations on the pathophysiology and treatment of anaphylactic cardiovascular collapse. Anaesth Intensive Care. 1986;14(1):17-21. doi:10.1177/0310057X8601400105
Council RU. Emergency treatment of anaphylactic reactions Guidelines for healthcare providers Working Group of the Resuscitation Council (UK). Published online 2008. Accessed March 15, 2022. www.resus.org.uk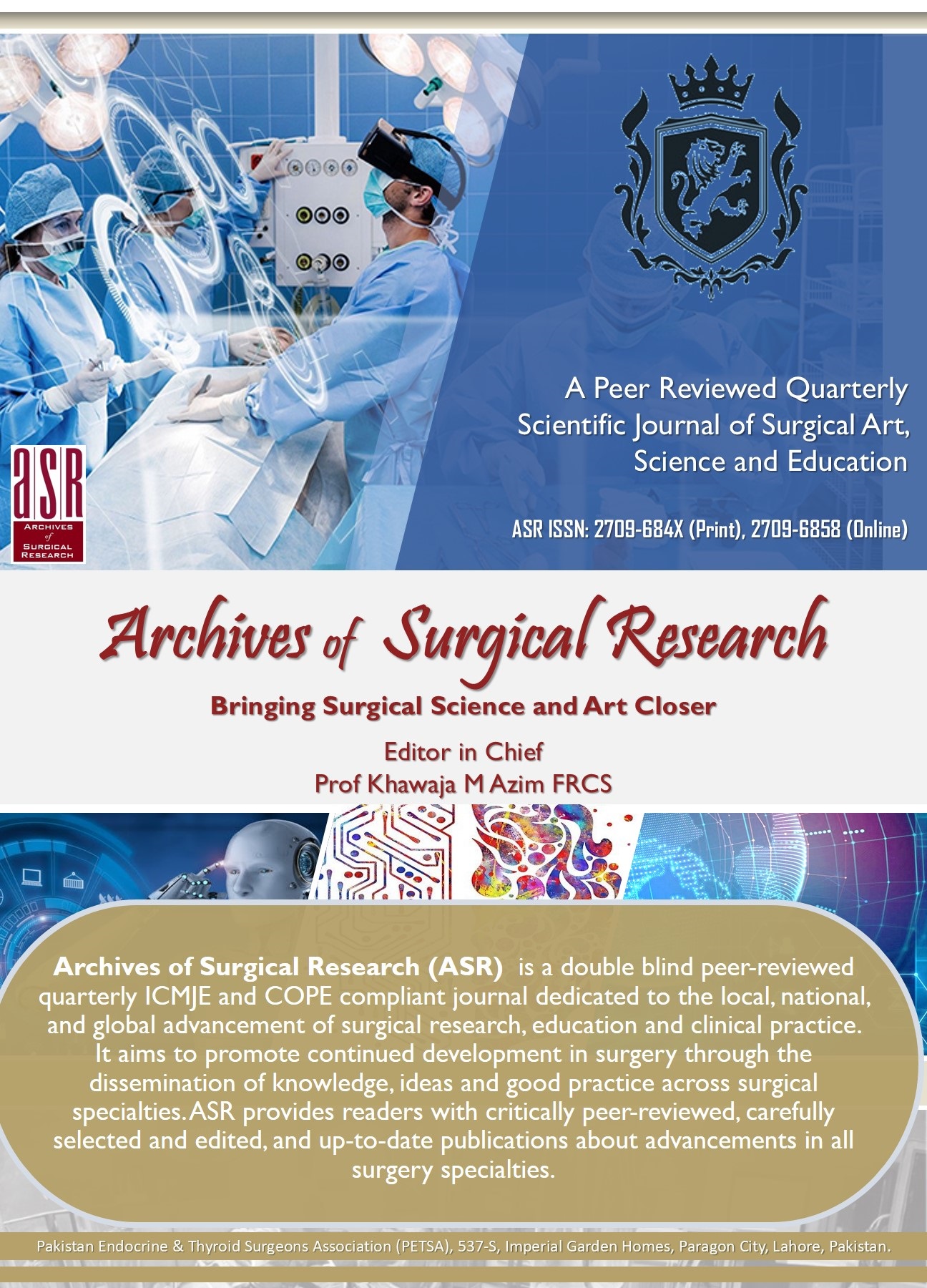 Downloads
License
Copyright (c) 2022 Aamir Bashir, Muhammad Naveed Azhar
This work is licensed under a Creative Commons Attribution-NonCommercial-NoDerivatives 4.0 International License.