Laparoscopic Completion Cholecystectomy for Residual Gallbladder: A Case Report and Literature Review
Keywords:
residual gallbladder, postcholecystectomy syndrome, laparoscopic cholecystectomy, completion cholecystectomy, Magnetic Resonance Cholangiopancreatography, minimally invasive surgery
Abstract
IMPORTANCE Gallbladder infection can present with variable severity and in acute settings may compel surgeon to perform a relatively less complex, subtotal cholecystectomy in certain circumstances, which may lead to a residual portion of the gallbladder and associated complications in some cases. The reported incidence of such cases of subtotal cholecystectomy ranges from 0.4 to 3%, out of which 10% develop symptoms and present in healthcare centers with complications such as remnant cholecystitis and reoccurrence of cholecystolithiasis, or even gall bladder carcinoma. Here, we report a case of the residual gallbladder which was subsequently catered through a laparoscopic approach successfully
References
Gupta V, Sharma AK, Kumar P, et al. Residual gall bladder: An emerging disease after safe cholecystectomy. Ann Hepato-Biliary-Pancreatic Surg. 2019;23(4):353. doi:10.14701/AHBPS.2019.23.4.353
Singh A, Kapoor A, Singh RK, et al. Management of residual gall bladder: A 15-year experience from a north Indian tertiary care centre. Ann Hepato-Biliary-Pancreatic Surg. 2018;22(1):36. doi:10.14701/AHBPS.2018.22.1.36
Teshima T, Nitta H, Mitsuura C, et al. How to treat remnant cholecystitis after subtotal cholecystectomy: two case reports. Surg Case Reports. 2021;7(1). doi:10.1186/S40792-021-01183-X
Ando T, Sakata J, Nomura T, et al. Anatomic location of residual disease after initial cholecystectomy independently determines outcomes after re-resection for incidental gallbladder cancer. Langenbeck's Arch Surg. 2021;406(5):1521-1532. doi:10.1007/S00423-021-02165-1
Yin Z, Zhu Y, Li Z, et al. Factors related to residual gallbladder calculi formation using computed tomography and magnetic resonance imaging combined with clinical data. J Int Med Res. 2020;48(9). doi:10.1177/0300060520958968
Popescu RC, Leopa N, Dumitru A, et al. Residual Gallbladder and Cystic Duct Stump Stone after Cholecystectomy: Laparoscopic Management. Chirurgia (Bucur). 2021;116(4):484-491. doi:10.21614/CHIRURGIA.116.4.484
Palanivelu C, Rangarajan M, Jategaonkar PA, Madankumar MV, Anand NV. Laparoscopic Management of Remnant Cystic Duct Calculi: A Retrospective Study. Ann R Coll Surg Engl. 2009;91(1):25. doi:10.1308/003588409X358980
Xu A, Hu H, Zhao G, Jiao L. How to Successfully Manage Residual Gallbladders Laparoscopically Following Open Techniques? Surg Laparosc Endosc Percutaneous Tech. 2017;27(4):e92-e95. doi:10.1097/SLE.0000000000000436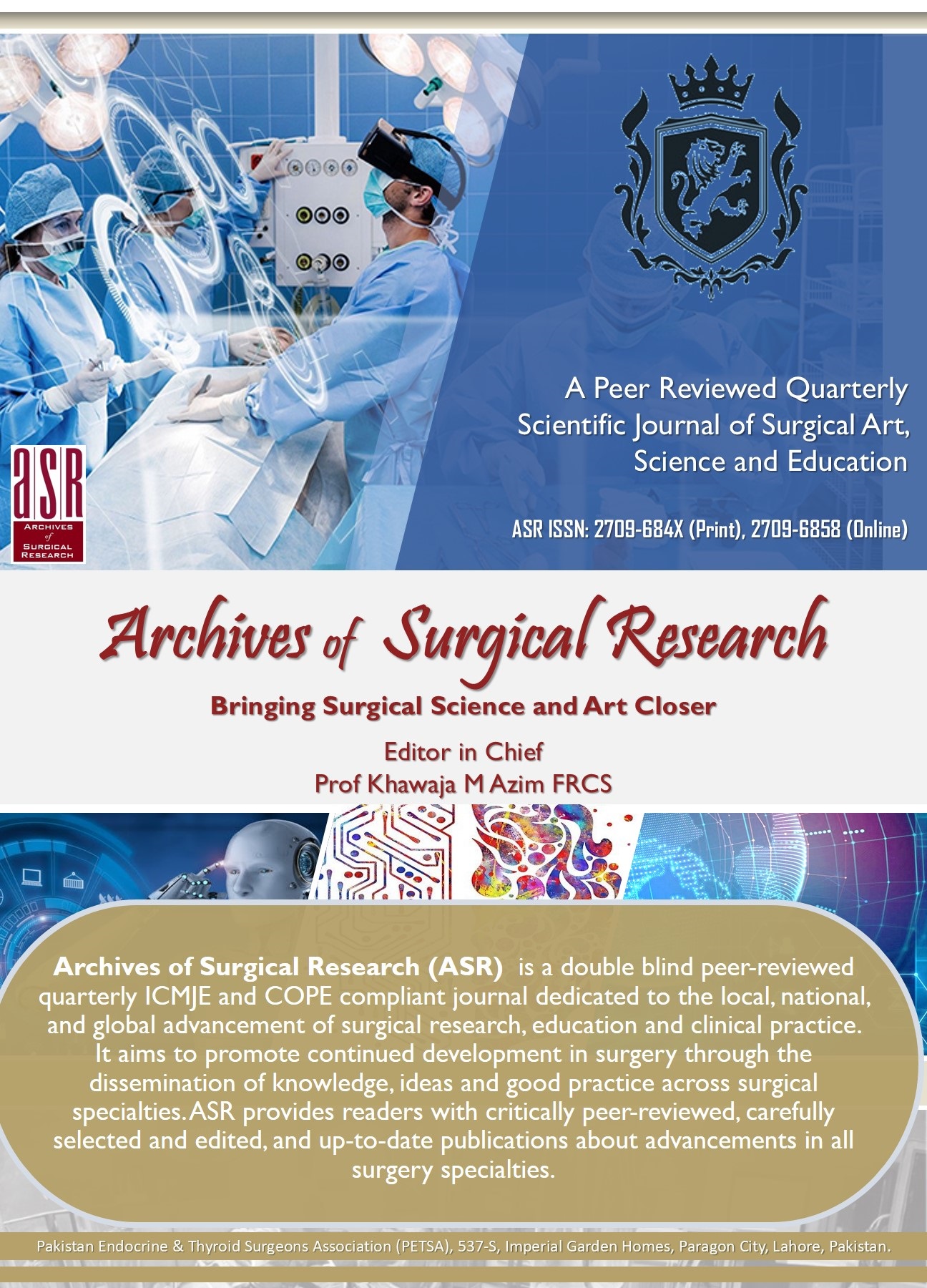 Downloads
License
Copyright (c) 2022 Iqra Imtiaz, Muhammad Touseef Asghar
This work is licensed under a Creative Commons Attribution-NonCommercial-NoDerivatives 4.0 International License.
How to Cite
Laparoscopic Completion Cholecystectomy for Residual Gallbladder: A Case Report and Literature Review. (2022).
Archives of Surgical Research
,
3
(2), 42-44.
https://doi.org/10.48111/2022.02.09